The Brewery
(3 Reviews) Visit Website
52

,

Chiswell Street

,

England

,

EC1Y 4SD

,

United Kingdom
---
The Brewery London Events & Parties
Situated near bustling Shoreditch, The Brewery London is a premium events venue offering a diverse range of striking spaces. Whether you're planning a summer soiree, an extravagant party, or an intimate affair, this heritage-filled venue provides a unique canvas for your next celebration.
For formal gatherings, the Porter Tun room is one of the city's oldest and largest unobstructed event spaces filled with architectural details and a balcony in the far end of the room. For less formal occasions, the refined Queen Charlotte room or the bright and distinctive Sugar Rooms may be your preference. If you're looking for a spectacular backdrop for a summer soiree, the 18th Century cobbled courtyard can be transformed into an idyllic oasis with a glass marquee. 
Highlights of The Brewery London Events & Parties:
A historic venue filled with original industrial features

Easily accessible location in the heart of London

Award-winning catering tailored to your event

A glass marquee constructed in the courtyard for summer events
Request A Viewing
Capacity
Up to
900
Theatre
Up to
500
Cabaret
Up to
390
Classroom
Up to
700
Dining
Up to
550
Dinner & Dance
Up to
30
Boardroom
Up to
1000
Standing
Facilities
Carpark Locations
NCP at Barbican
Spaces At This Venue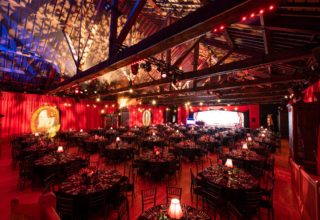 The Porter Tun
778sqm / 8374sqft

Full of charm and striking features, such as an exposed King Post timber roof and a spacious antique wooden floor, The Porter Tun is a magnificent space for gatherings of up to 600 guests. There is a raised balcony in the room, which is perfect for speeches or introducing the bride and groom, and the room is equipped with a state-of-the-art sound system and LED lighting.

King George III
544sqm / 5856sqft

Steeped in history and named after a royal visit in 1787, the King George III Room is a statement room for events of up to 300 guests. Exposed brickwork, lanterns, and a barrel-vaulted ceiling all add period charm to the unique space and the room can be used alone or in conjunction with the Porter Tun for weddings.

Queen Charlotte
200sqm / 2153sqft

The sophisticated Queen Charlotte room shares similar features as the King George III room, with its exposed brickwork and barrel-vaulted ceiling, yet it is more suitable for parties of up to 200 guests. The space is filled with character and even includes a hidden bar.

The Sugar Rooms
117sqm / 1259sqft

The Sugar Rooms are two bright, airy and distinctive rooms with their own private staircase. Once used as storage rooms for the sugar used in the venue's beer production, the rooms are now the perfect space for special events with up to 120 guests. The white walls, high beams and floor-to-ceiling Georgian windows which overlook the cobbled courtyard below, all add a sweet, magical touch to your occasion.

The Smeaton Vaults
98sqm / 1055sqft

The Smeaton Vaults combines two vaulted spaces to create a unique event location allowing for up to 110 guests. Originally used for storing beers, the rooms continue to feature copper pipes and an original iron walkway, yet the high vaulted ceilings add a light and contemporary atmosphere to the rooms.

James Watt
122sqm / 1313sqft

The James Watt room is a self-contained and intimate space that is perfect for small meetings and private dining. Named after the James Watt steam engine in 1785, the space has an integrated LED light system and PA system for business functions. The room can also be used as a breakout space for larger events.

from $6,000
The Courtyard Marquees
270sqm / 2906sqft

An 18th-century courtyard that is hidden from the hustle and bustle of the city. A glass marquee is constructed over the courtyard in summer months and creates an idyllic oasis.

The Brewery London prides itself on its first-class catering suitable for any occasion. Their award-winning chefs work hard to produce stand-out menus with locally sourced produce and nutritional food full of robust flavour. They can also create bespoke menu options depending on your party's dietary requirements.
The Brewery London is also available for dry hire if required.
Highlights of Catering at The Brewery London:
Balanced meals rich in nutrients and full of flavour

Menu options created by award-winning chefs

Bespoke menu creation

A selection of global wines chosen by in-house sommelier
Download Brochure
Location
Nearby attractions:
Barbican Centre

Museum of London

Old Street

The City of London

St. Paul's Cathedral
Restaurants nearby:
Chiswell Street Dining Rooms

Cote Brasserie

Pham Sushi

Baracca

Osteria London
Hotels nearby:
The Montcalm at The Brewery London City

The Montcalm Royal London House

The Barbican Rooms
Venue Testimonials
A fantastic venue for all events. […] Everything was great, excellent food, superb service and the drınks just flowed all night long. Dancing till midnight on the dancefloor. A truly amazing wedding.
Ahmet Satrettin ·
Nice events venue, unique architecture and ceilings!
Oliver Wauters ·
Lovely venue, great food, good location. I came here for a Christmas work do, they accommodated about 600 guests. Couldn't fault it. Look forward to coming again.
Oliver Shallcrass ·
Request A Quote
Frequently Asked Questions
The Montcalm at The Brewery London City

The Montcalm Royal London House

The Barbican Rooms
No, but parking is available in NCP at Barbican and is a three-minute walk away from the venue.
The Brewery London prides itself on its first-class catering and their award-winning chefs work hard to produce stand-out menus with locally sourced produce and nutritional food full of robust flavour.
Contact Monica
Personable and friendly, Monica is dedicated in finding you the perfect venue, making your journey easier with prior knowledge in luxury sectors and excellent customer service.
Download Event Packages & Pricing
Get information about package options, pricing, facilities, and much more!
Similar Venues
---