Balfour St Barts
(3 Reviews) Visit Website
66

,

West Smithfield

,

England

,

EC1A 9DY

,

United Kingdom
---
Balfour St Barts Weddings
The beautifully designed Balfour St Barts is a spectacular choice for wedding celebrations. Located in the heart of the city and overlooking the magnificent St Paul's Cathedral, the striking venue will add historic and industrial-style charm to your wedding day.
The Scene at Balfour St Barts London
Bursting with character and urban charm, Balfour St Barts is a unique pub wedding location in the heart of London.
The enchanting city pub and events venue can cater for up to 120 seated or 200 standing guests, and there are a number of wedding packages available.
Whether you choose an intimate reception or a grand celebration, there is an array of unique spaces for couples to choose from, as well as exclusive hire of the entire venue. The brewery features a versatile auditorium-style space with an upper mezzanine level, plus a stage and dancefloor so newlyweds can dance the night away.
Conveniently located in the central east location of West Smithfield, Balfour St Barts overlooks the iconic St Paul's Cathedral and bustling Smithfield Market. Several tube stations are a short five-minute walk away, including Barbican, Farringdon and St Paul's.
Balfour St Barts London Wedding Receptions
Couples can choose the Balfour Room for an intimate wedding reception, or hire the entire venue for a grand party. Exclusive hire of the venue features the use of the main bar area, lounge, upper-level mezzanine and the Balfour Bar as an additional bar space. Newlyweds will also have access to a magical garden area outside the brewery which can be used as an enchanting backdrop for wedding photos.
Wedding Photography Near Balfour St Barts London
Some of the most popular wedding photography locations near Balfour St Barts London are:
Smithfield Market

A unique inner-city garden located opposite the brewery
Request A Viewing
Capacity
Up to
50
Theatre
Up to
50
Classroom
Up to
50
U-Shaped
Up to
30
Boardroom
Up to
50
Cabaret
Up to
130
Dining
Up to
220
Standing
Wedding Venue Details
Wedding Services
Reception Only
Facilities
---
Catering Options
3rd Party Catering
In-house Catering
Cuisine Options
Sit Down
Shared Platters
Spaces At This Venue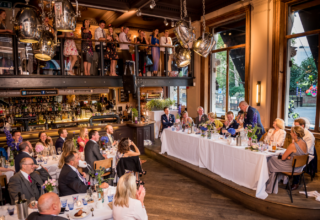 from $3,000
Exclusive Venue Hire
Balfour St Barts is available for full exclusive hire and has capacity for up to 250 standing guests. The industrial-style venue features a main bar area, upper mezzanine, lounge area, and the Balfour Bar, which all deliver a characteristic backdrop for any occasion.

from $1,000
The Mezzanine
A versatile L-shape formation, the Mezzanine is a chic space for private meals or intimate celebrations of up to 40 guests. Overlooking the main bar area below, the space eludes industrial charm and can be hired individually or with the adjoining Balfour Bar.

from $1,000
The Main Bar & Lounge
The Main Bar is a unique backdrop for any event and the open-plan space features wooden flooring, iron finishings and a high ceiling, as well as a relaxing and inviting Lounge area with space for up to 50 guests.

Balfour St Barts London Catering
Balfour St Barts offers fresh, seasonal and traditional British food, featuring many classics, and will happily deliver a tailor-made menu for your event. There's a huge range of craft beers, speciality spirits, artisan ales, and international wines onsite, as well as award-winning wines from the Hush Heath group.
Highlights of Catering at Balfour St Barts London:
Bespoke menu creations

A vast range of craft beers, speciality spirits and award-winning wines available

Friendly, knowledgeable team
Menu Cost Per Head
From 50
Download Packages
Location
Nearby attractions:
Museum of London

Barbican Centre

St. Paul's Cathedral

Smithfield Market
Restaurants nearby:
Club Gascon

Apulia

Ask for Janice

St. John

Hix Oyster & Chop House
Hotels nearby:
Fox & Anchor

Malmaison London

Premier Inn London Farringdon

The Montcalm at The Brewery London City
Venue Testimonials
The open room with the mezzanine above is fantastic for high energy weddings and a band on the stage makes for one hell of party! Super friendly and helpful staff too. Also great location for photos outside with the park and Smithfield's market right next door. Highly recommend!
Matt Badenoch ·
Fantastic environment, even better staff. I used St Barts to host a team building event on two occasions now. both times Pam and her team were welcoming and couldn't do enough to host us and our guests. Food is lovely, drinks are reasonably priced. Exactly the place I have been looking for in London.
Jason Leigh ·
The layout of this venue is sublime, you have stacks of space to enjoy an intimate meal. The menu is small but that is a positive in my opinion because it meant the quality of the food was phenomenal. They could charge more and you'd still feel like you're getting a bargain. A little gem of a venue hiding in the city.
Stu Lovell ·
Request A Quote
Frequently Asked Questions
Contact Aneeza
Download Wedding Packages & Pricing
Get information about package options, pricing, facilities, and much more!
Similar Venues
---