13 Cool Industrial Wedding Venues in London
By Aneeza Qureshi /London Venue Expert
Fri 16th Dec 2022 Wedding Venues
​​If you're looking for a cool, industrial wedding venue in London, you will love our finds. There are plenty of London warehouse wedding venues that would be perfect for your big day.
From converted factories to trendy loft spaces, there's an industrial wedding venue to suit every style. And best of all, London's industrial spaces come with a cool, urban vibe that will make your wedding photos stand out from the run-of-the-mill traditional set.
So if you're looking for something a little bit different, check out these London industrial wedding venues. You won't be disappointed.
With its grand Victorian interiors, The Bull & Gate is a perfect wedding venue in one of London's most dynamic neighbourhoods. There's nothing like the Bull & Gate in London's vibrant Kentish Town for a pub-style wedding. This dynamic event space can handle everything in-house for your wedding day. There's a rustic dining room with a stylish backdrop, and a charming bar space for your ceremony.
London's Woolwich Works is located in the vibrant riverside area. An industrial-style design venue with a 17th-century historical restoration offers a versatile and stunning wedding venue. With its convenient location adjacent to Woolwich Arsenal Pier, it offers an unforgettable experience for your wedding guests. A selection of light-filled wedding spaces with exposed brick and state-of-the-art technology can be found inside.
Tanner Warehouse near Bermondsey was previously a factory and has been converted into a warehouse. A retro-style roof net with lit-up balls, steel columns, exposed industrial details, wood floors, vintage furniture, and a retro-style floor net make this exclusive-use venue look like a retro school gym. The space is ready for you to use, and all you have to do is show up and have fun.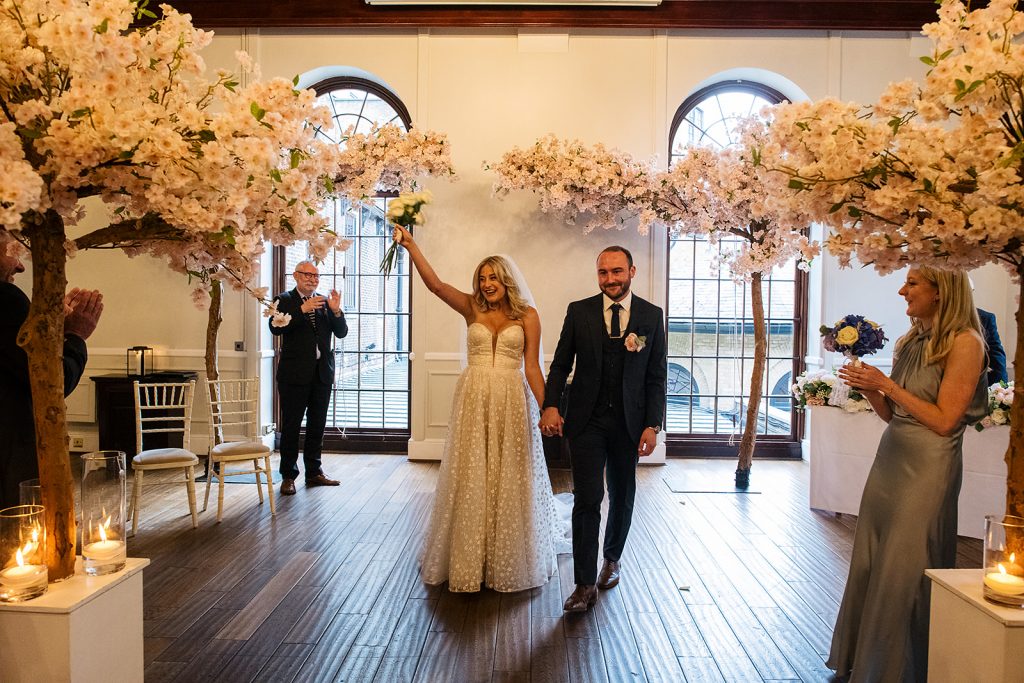 The Brewery offers a unique event space with an industrial feel that is filled with character and history, making it one of the most popular wedding reception locations in the city. This spectacular venue is known for its original period details and characterful atmosphere. Make your wedding photographs magical by setting up your ceremony in the 18th-century cobblestone courtyard.
The Hackney is an industrial-chic event space in East London. This popular venue is known for its unique and stylish details such as plenty of natural light, hanging greenery, exposed brick walls, polished cement floors, and Edison bulbs. Here, weddings are relaxed and stylish, and the warm and intimate surroundings make for a picture-perfect occasion.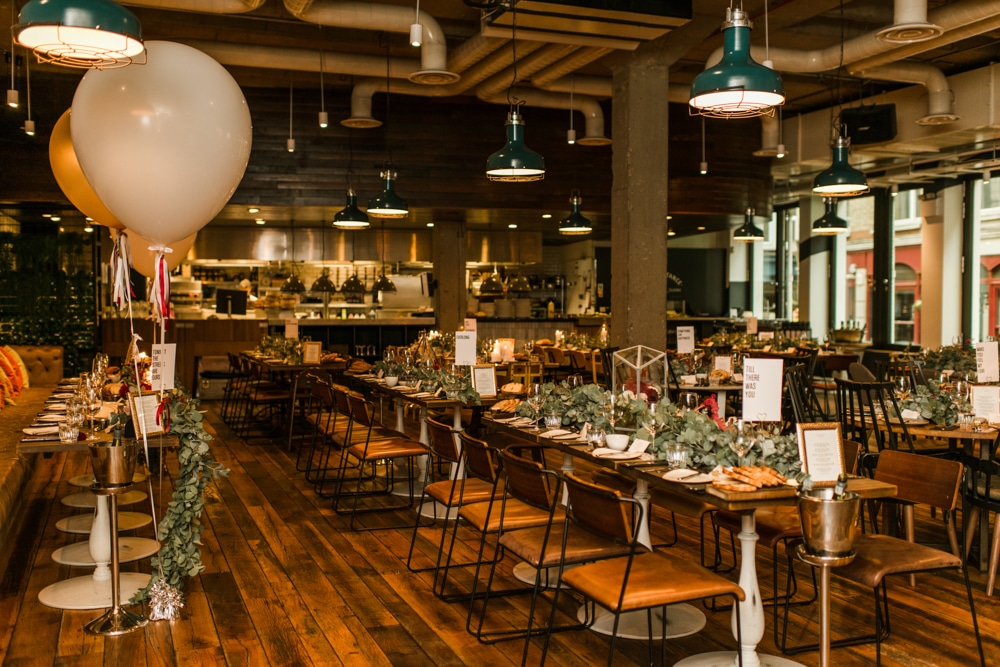 An industrial-style wedding venue located beneath the London Stock Exchange, The Happenstance creates a stunning atmosphere. Featuring a stunning open-air terrace overlooking St Paul's Cathedral, this stylish event space is the ideal choice for an inner-city wedding. You'll enjoy outstanding cuisine, beautiful decor, knockout entertainment, and plenty of personal touches at this Drake & Morgan restaurant.
In terms of location, state-of-the-art facilities, masterful design, and breathtaking views, The Gherkin's top three floors can rival many events and private dining spaces in London. Your guests will be treated to beautiful panoramic views as the city lights up around the building in the evening, creating incredible photo opportunities. At The Gherkin, weddings can be tailored to suit a couple's individual needs.
In this ancient fortress, you will have the opportunity to celebrate in front of the iconic architecture and dramatic 1,000-year history of the Tower of London. The River Thames is just a stone's throw away from this wedding venue known for its heritage as a royal palace and infamous prison. This landmark London venue has a variety of spectacular event spaces, whether you're planning a lavish reception or an intimate ceremony.
GET INFO ON THE TOWER OF LONDON
The Dickens Inn resembles St. Katherine Docks with its style and charm and is a charming venue for weddings. Originally dating back to the 1800s, The Dickens Inn is known for its East London heritage, as well as an intriguing connection to Charles Dickens. The three-story inn offers beautiful views over the dock toward the Shard and Tower Bridge, making it an ideal location for a wedding in central London.
Drake and Morgan's The Anthologist is a contemporary and bold wedding venue located in the heart of London's financial district, just minutes from Bank station and St. Paul's Cathedral. A vibrant colour scheme, exposed brick walls, industrial pendant lighting, swing seats, and eclectic furniture characterize this modern and quirky wedding venue. An industrial décor with a modern twist, flexible function spaces, and a wedding planner on staff make this an exceptional location for a successful wedding day.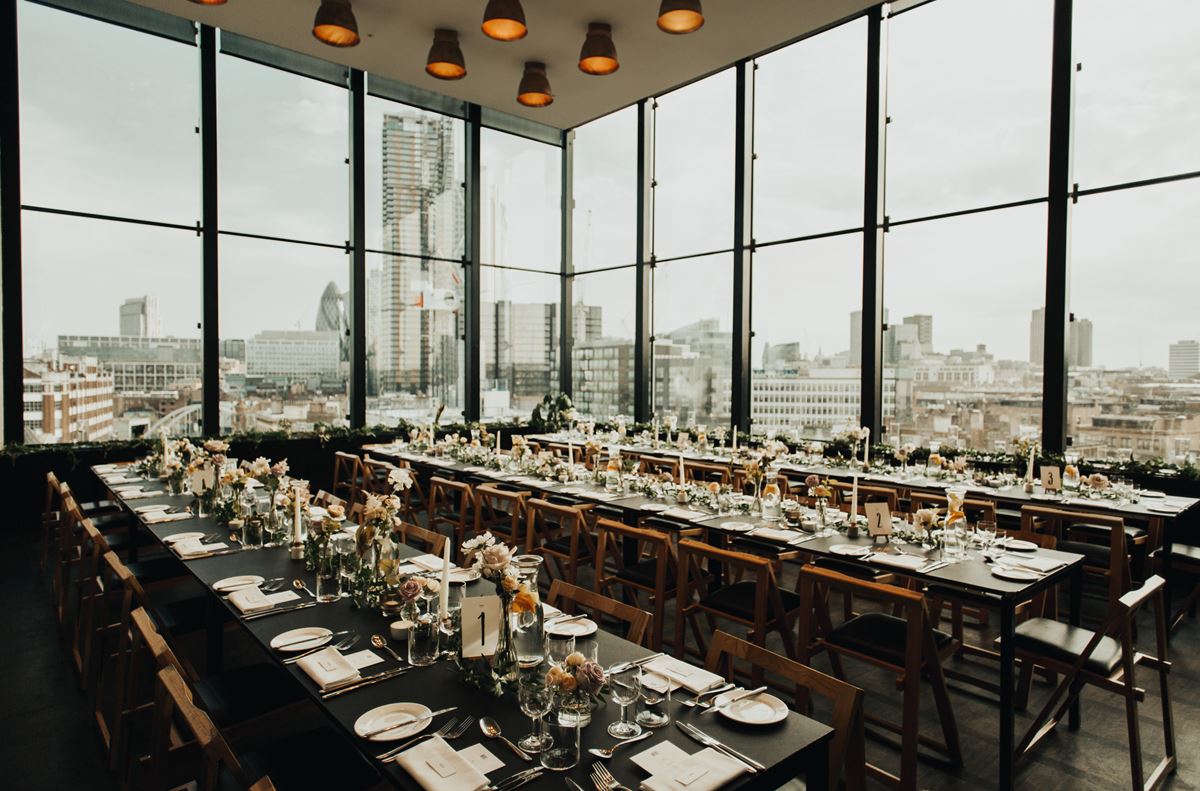 The One Hundred Shoreditch offers stylish event spaces that are waiting to be transformed into beautiful wedding locations. This sleek hotel greets guests with a plant-filled wall leading them into an industrial-meets-minimal space with concrete walls and midcentury design. The rooftop's five enclosed rooms are surrounded by windows, allowing natural light to flood the rooms, and creating an impressive backdrop for your wedding photos.
GET INFO ON ONE HUNDRED SHOREDITCH
At East Wintergarden, various event spaces cater to both intimate and large weddings. This venue is adorned with stunning dome-shaped glass facades. Natural light fills the magnificent space of this industrial-chic venue throughout the day, providing panoramic outdoor views.
Royal Horticultural Halls, in Lambeth, is a 19th-century venue that is home to the Royal Horticultural Society. This event space has a vaulted glass ceiling that provides plenty of light and adds aesthetic appeal. Depending on your preference, the venue can be transformed into a room that is as breathtaking as you desire. Your guests will not forget the details of your wedding at this venue.
GET INFO ON ROYAL HORTICULTURAL HALLS

Looking for advice on the best wedding venue for your plans? Let's chat about your style, budget, and more. We'll happily recommend something that works with your vision.