London Corporate Party Venues for Hire That Are Gorgeous at Night
London's night sky is the perfect backdrop to make a statement at your next corporate event. Yet, not all venues are meant for night-time use, especially for a corporate gathering. You want a space with a lively atmosphere and great views of the city lights. You want a space that makes people feel excited to be social and chatting with like-minded folks. These are those kinds of spaces.
A sample of just a few of the best corporate party venues for hire in London, these spots are stunning in the evening and nighttime hours. From event spaces that offer fine-dining experiences and exquisite interiors to more urban-casual settings, these venues have you covered.
When it comes to a nighttime venue for your corporate event in London, no place offers more beauty and grandeur than The Hurlingham Club. This exclusive private members club boasts is surrounded by lush grounds that are beautifully illuminated at night and include ornate water fountains and delicate lighting.
Inside, the lavishly styled reception rooms feature exquisite details, natural light, and original fireplaces that will fill the space with warmth. Plus, the location is just 20 minutes from Central London – perfect for ease of access!
GET INFO ON THE HURLINGHAM CLUB
If you're looking for a unique venue, Andaz London Liverpool Street by Hyatt is the perfect place! Located right in the heart of East London's art hub Shoreditch, this 5-star luxury landmark hotel offers various event spaces that have been beautifully renovated to retain their historic character.
These spaces feature contemporary and artistic designs, all of which are enhanced at night with sophisticated lighting. Plus, the hotel is home to several restaurants if you wish to combine a corporate event with dining options. From Eastway Brasserie to Lady Abercorn's Pub & Kitchen, there's something for every taste.
GET INFO ON ANDAZ LONDON LIVERPOOL
When history and elegance are paramount, One Marylebone should be at the top of the list! This striking Grade I listed structure is a reminder of early 19th-century architecture, set on an island in the middle of Marylebone near Regent's Park.
The primary event space, Soane Hall, is filled with high ceilings, original altars, and spectacular stained glass windows, which will look even more stunning at night. Plus, the fact that One Marylebone comes with an expert team of in-house event planners to help make sure your event runs without a hitch makes the entire experience hassle-free.
Some corporate events call for a touch of drama, and there's no better place to get it than at L'Oscar. This former 19th-century Baroque church turned boutique hotel is built from the ground up with extravagant interior details, original architectural delights, and theatrical elements throughout.
That means that once you step out of Holborn's streets and into L'Oscar, you'll be immediately transported to a space full of wonder and intrigue. The hotel offers various event spaces, all of which take on an even more magical quality when illuminated at night! Plus, when you add the offered decadent menus from one of their in-house acclaimed chefs, L'Oscar becomes a corporate event venue that you won't forget anytime soon.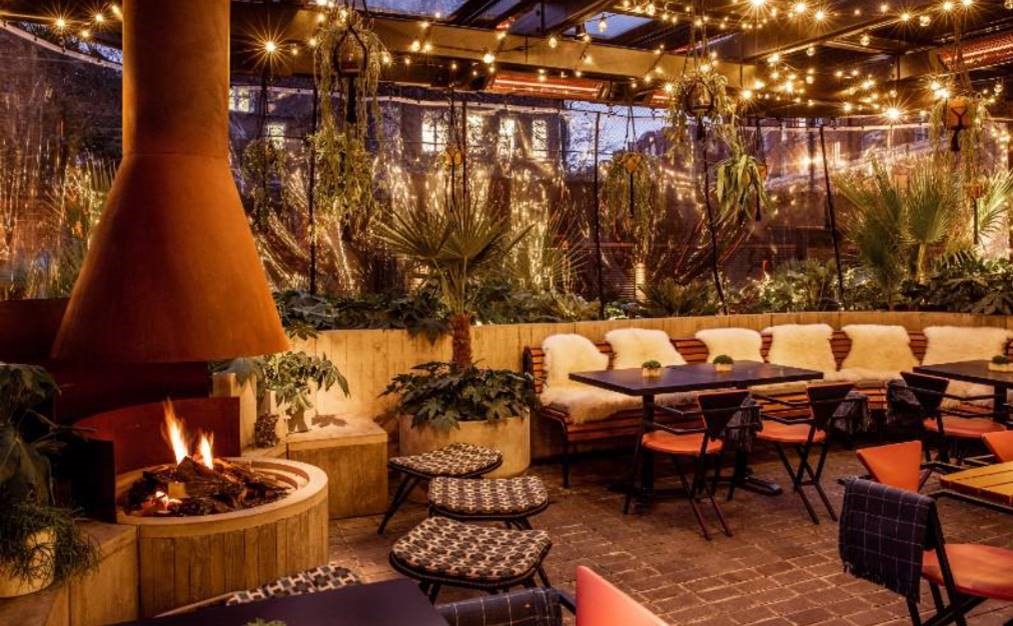 Whether or not overnight stays are part of your event's agenda, The Standard is the perfect place for your event. Found within the former Camden Town Hall Annex in London's King's Cross, you wouldn't believe the transformation that has taken place inside this striking Brutalist building.
The Standard offers an array of unique event spaces, all of which look even more breathtaking at night – from the spacious ground-floor terraces to the sweeping city skyline views up on level ten. For parties, don't miss the dramatic Decimo Space – you'll be sure to wow your guests beneath the dazzling disco ball. Plus, with 226 contemporary guest bedrooms available to rest in after, the venue provides unmatched peace of mind regarding accommodation.
There's just something about food that brings people together and unites them in celebration. If you want a venue that captures this sentiment, Smiths of Smithfield is the place for you. Situated next to the iconic 19th-Century Smithfield Market, this restaurant is a celebration of London's local history and its delicious food.
With varied menus and specialised grills, Smiths of Smithfield is a fantastic choice for corporate events. Plus, it's conveniently located just minutes from public transport, so your guests will have no trouble getting there.
GET INFO ON SMITHS OF SMITHFIELD
"Unique" wouldn't be enough to describe the atmosphere at London's National Maritime Museum. Set overlooking the River Thames from UNESCO's World Heritage Site of Royal Museums Greenwich, this museum brings with it a legacy of British seafaring history that no other venue can match.
The space itself is designed to reflect its maritime heritage — in the awe-inspiring Great Map Room, where a world map design sprawls across the floor, and in the Photography Gallery, filled with jaw-dropping astrophotographs of the solar system. It's an exceptional dry-hire venue that can make any corporate function unforgettable!
GET INFO ON NATIONAL MARITIME MUSEUM
Allowing you to party up until 3 AM with no restrictions, The Gherkin is the perfect choice for a night of corporate entertainment. The building's iconic architecture and stunning views make it an ideal event venue – 360-degree views from the top mean you can take in London's most recognisable skyline while sipping on your favourite drinks.
Oh, and did we mention that it's known for its contemporary architecture? Floor-to-ceiling glass walls allow for spectacular panoramas of the city, so you can be sure to impress your colleagues and guests alike. Plus, with dining and event spaces on floors 38-40, there's plenty of room to explore.
For extravagant events and maximum customisation, the Amadeus should be your go-to venue. A renovated chapel in the heart of Maida Vale, this space has been transformed into a sophisticated and versatile event space that can be tailored to your needs.
The Amadeus boasts high vaulted ceilings, sophisticated wood panelling, plenty of natural light and state-of-the-art acoustics — creating an all-encompassing atmosphere that's perfect for any event. With its Upper and Lower halls combined or hired separately, you can make the space as grand or intimate as you'd like. So why not take your event to the next level with The Amadeus?
Need help finding a venue for your corporate event in London? Let's chat.