RSA House
8

,

John Adam Street

,

England

,

WC2N 6EZ

,

United Kingdom
---
RSA House Weddings
RSA House Weddings
Tucked behind the Strand in London's West End is RSA House, a beautiful 18th-century Georgian townhouse designed by architect Robert Adam. Upon entry, the house immediately impresses, with its sweeping marble staircase and variety of rooms that retain original features, creating a stunning backdrop to any wedding. 
When you book an RSA House wedding, you have exclusive use of the venue and a dedicated team to help you create a bespoke day to your style and preferences. Choose between grand and lavish areas or smaller, more intimate rooms, and enjoy a range of catering that comes from a team that boasts a Royal Warrant from HM The Queen. 
The Scene at The RSA House London
RSA House is an elegant, central London wedding venue full of history, style, and grandeur. The Georgian townhouse has played host to some of the greatest thinkers, creators, and social activists over the last 200 years, making this one of the most interesting places to get married in the city. 
Licensed to hold civil ceremonies for up to 180 guests, you can choose to have a large wedding in the Great Room, or something smaller in the Vaults, with spaces for dressing rooms, drinks receptions, and relaxing lounge areas. And, with exclusive use of the whole venue, you can flow between the different spaces throughout the day, opting for your ceremony in one room, reception in another, and perhaps a secret whiskey bar in yet another.
The RSA House London Wedding Ceremonies
There are three options to have your civil ceremony at RSA House wedding venue:
The Great Room — the very place Graham Alexander Bell first demonstrated his invention of the telephone — retains its beautiful glass-domed ceiling and striking mural, and is the largest of the three, holding ceremonies with up to 140 guests. 

The Benjamin Franklin Room, with capacity for 100 people, boasts large windows that flood the room with natural light, offsetting the striking Troika chandelier and original Adam fireplaces. 

And for something different altogether, have your wedding ceremony in the underground Vaults with up to 80 guests, with exposed brickwork and a blank canvas that is perfect for adding your own décor. 
The RSA House London Wedding Receptions
Many RSA House wedding receptions take place in the same rooms as the ceremonies. The Vaults come with a separate area that can host dinners and drinks receptions or provide a relaxation area away from the main event. With dance floors, DJ, and live band facilities in all spaces, you and your guests can dance the night away and celebrate in style. 
Food comes from in-house caterers CH&CO, who offer a variety of seasonal menus using sustainably and ethically sourced ingredients. Choose between formal fine dining, casual setups, family-style, and even market stalls for a street food experience — or go completely bespoke. 
Wedding Photography Near The RSA House London
Some of the most popular wedding photography locations near The RSA House London are:
Victoria Embankment Gardens

The National Gallery

Somerset House 
Request A Viewing
Capacity
Up to
180
Theatre
Up to
52
Boardroom
Up to
61
U-Shaped
Up to
96
Cabaret
Up to
130
Dining
Up to
220
Standing
Wedding Venue Details
Wedding Services
Ceremony & Reception
Facilities
---
Catering Options
3rd Party Catering
In-house Catering
Cuisine Options
Buffet
Sit Down
Cocktail
Shared Platters
Asian Cuisine
Indian Cuisine
Kosher Cuisine
Spaces At This Venue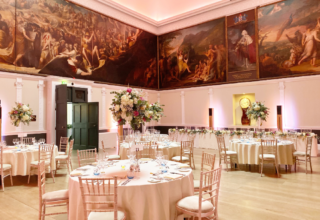 from $3,000
The Great Room
136sqm / 1464sqft

A large and lavish space, the historic Great Room is immediately impressive. A series of paintings by James Barry that took 24 years to complete, a glass-domed ceiling. and a rich history that stretches back to 1774, the Great Room is truly iconic. This room suits weddings, dinners, conferences, and meetings and has the capacity for up to 200 people.

from $1,800
The Benjamin Franklin Room
137sqm / 1478sqft

The Benjamin Franklin Room boasts two original Adam fireplaces, a stunning Troika chandelier and large windows overlooking the Strand, creating an elegant space that's full of character. The Benjamin Franklin Room is connected to the Great Room and can hold 150 people standing, or up to 110 people for dinner.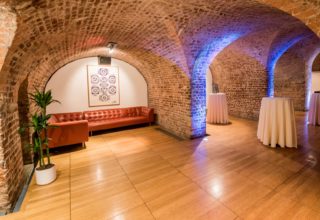 from $1,000
The Vaults & Durham Street Auditorium
Accessed via a separate entrance to the main entrance are the Vaults and Durham Street Auditorium. With exposed brickwork, these underground spaces have a contemporary and industrial feel compared to the rest of RSA House and are striking on their own or with décor of your choice. The four Vaults are perfect for parties and dinners, while the theatre style of Durham Street Auditorium is a great space for screenings and presentations. The Vaults have capacity for up to 220 people and Durham Street Auditorium can hold up to 70.

from $420
Medium Rooms (Romney, Philip, Tavern)
There are three medium-sized event spaces throughout RSA House that can be used for meetings, ceremonies, drinks receptions, or private dinners. The Tavern, Prince Philip, and Romney Rooms all feature original Adam ceilings and elegant detailing, and are perfect for intimate events for 40-60 people.

The RSA House London Catering
Catering at RSA House comes from independent caterer CH&CO, which has an emphasis on imaginative and fun dishes using sustainably and ethically sourced ingredients. 
Whatever your event, there are different packages to suit you, from extensive breakfast options to light sandwich lunches, make-your-own ramen, and substantial buffets. There are also options to choose casual bowl food, traditional family-style dining, fine dining, or market stalls. 
Highlights of Catering at The RSA House London:
A large variety of catering packages and styles of food to suit your event 

Option to create your own bespoke menu 

Sustainably and ethically sourced ingredients 

Local, biodynamic, and organic wines available 

CH&CO has Royal Warrant for services to HM The Queen
Menu Cost Per Head
From 59.50
Download Packages
Location
Nearby attractions:
Covent Garden
Trafalgar Square & The National Gallery
Somerset House
Royal Opera House
Victoria Embankment Gardens
Restaurants nearby:
Barrafina
Rules
Spring
Zizzi
Joe Allen Restaurant
Hotels nearby:
The Savoy
The Waldorf Hilton
The Corinthia
The Resident Covent Garden
Venue Testimonials
One of the best experience of attending a breakfast conference here at this venue. It is accessible and so scenic. Lovely atmosphere and can be accessed easily from Charring cross station and Holborn underground!
Pratik Magrale ·
A fabulous London events venue - really impresses the overseas visitor with the blend of tradition and modernity. The warren of staircases and rooms, passages and assorted nooks and crannies, the 18th century portraits, the association with famous people from history - all creates a unique atmosphere. I have been to events at the RSA several times over the years, and really enjoy coming to the place.
Michael Dembinski ·
Lovely selection of rooms with a contemporary feels.
Dwayne Bailey ·
Request A Quote
Frequently Asked Questions
Contact Monica
Personable and friendly, Monica is dedicated in finding you the perfect venue, making your journey easier with prior knowledge in luxury sectors and excellent customer service.
Download Wedding Packages & Pricing
Get information about package options, pricing, facilities, and much more!
Similar Venues
---