The Landmark Hotel London
(3 Reviews) Visit Website
222

,

Marylebone Road

,

England

,

NW1 6JQ

,

United Kingdom
---
The Landmark Hotel London Weddings
Prepare to be enchanted at The Landmark London. The luxurious, five-star hotel sits pride of place on Marylebone Road, just opposite Marylebone tube and railway station, and has been inspiring and impressing guests since it first opened in 1899. 
Weddings can take place in six exclusive wedding spaces throughout the hotel, with couples given the choice of grand ballrooms, and smaller, more intimate rooms. All come with stunning original period features, charming details, and impeccable service, and a dedicated wedding coordinator who will help you make your day as special as it can be. 
Experience classic British style and elegance from a bygone era at The Landmark London.
The Scene at The Landmark London Hotel
Step off Marylebone Road and into your own luxurious oasis at The Landmark London. Walk through the grand, wide lobby and you're greeted by a towering glass atrium that showcases all eight floors of the hotel.
On the ground floor, the palm tree-lined Winter Garden restaurant is unique and elegant, setting the tone for the rest of the wedding venues throughout. 
Large weddings can take place in the Grand Ballroom and Marble Ballroom, with their high ceilings, floor-to-ceiling windows, decadent chandeliers and original ornate detailing that immediately create an elegant backdrop. 
Smaller weddings can take place in the equally striking Drawing Room or Empire Room, or the small Tower Suite which has capacity for up to 60 guests, for something intimate. For a drinks' reception, we also love the Garden Terrace, which overlooks the stunning Winter Garden in all its splendour.
Enjoy timeless British luxury and elegance at your Landmark London wedding, as well as modern European cuisine, your own wedding planner and five-star service, all in the heart of London. 
Don't miss the Spa and Health Club, for a post-wedding wind-down.  
The Landmark London Hotel Wedding Ceremonies
Wedding ceremonies can take place in one of six exclusive wedding spaces at The Landmark London, all of which are licensed. The largest of the rooms, the striking Grand Ballroom, with original ornate detailing and floor to ceiling windows, can host up to 512 guests for a ceremony, with the option to partition part of the room to create a more intimate space. 
For ceremonies with up to 380 guests, consider the Marble Ballroom, distinguishable by its green marble, elaborate columns, and fireplace. 
Smaller ceremonies work well in the Drawing Room and Empire Room, with capacity for up to 180 and 200 guests respectively, both filled with unique original features, historic charm, and ample drama for a regal setting.
The Landmark London Hotel Wedding Receptions
Experience classic British luxury and sophisticated elegance when you host your wedding reception at The Landmark London. 
Enjoy a large, grand affair in one of the elaborate ballrooms, or a reception in one of the smaller spaces that still boast the original, grand details and architecture but on a smaller scale. 
The Garden Terrace, overlooking the palm-lined Winter Garden Restaurant, is a beautiful, light-filled place to enjoy a drinks reception for up to 300 guests before moving to one of the other rooms for dinner and dancing. 
Catering comes courtesy of the in-house catering team who create a bespoke menu of delicious modern European fare to suit you. Kosher and South Asian menus are also available.
Wedding Photography Near The Landmark London Hotel
Some of the most popular wedding photography locations near The Landmark London Hotel are:
Regent's Park, which is opposite The Landmark London
Request A Viewing
Capacity
Up to
512
Theatre
Up to
288
Cabaret
Up to
266
Classroom
Up to
50
Boardroom
Up to
46
U-Shaped
Up to
504
Dining
Up to
396
Dinner & Dance
Up to
750
Standing
Wedding Venue Details
Wedding Services
Ceremony & Reception
Facilities
---
Catering Options
3rd Party Catering
In-house Catering & Dry Hire
Cuisine Options
Sit Down
Asian Cuisine
Indian Cuisine
Kosher Cuisine
Spaces At This Venue
Grand Ballroom
610sqm / 6565sqft

The largest event space in the Landmark London, the Grand Ballroom can host up to 750 guests. This room is quintessential, classic British luxury at its best with large ceilings, ornate detailing, striking chandeliers, and draped floor to ceiling windows. Create a more intimate atmosphere with partition walls or go all out and book the adjacent Champagne Room which can hold up to an extra 70 guests.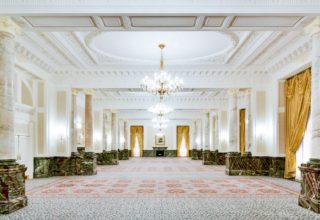 The Marble Ballroom
478sqm / 5145sqft

With space for up to 500 guests, the Marble Ballroom is slightly smaller than the Grand Ballroom but no less opulent. Chandeliers, carved ceilings, and accents of dark green marble come together to create a decadent space full of historic features. The Marble Ballroom can be configured in a variety of ways, with space for a dancefloor and ceremonial staging.

The Drawing Room & The Empire Room
The Drawing Room and the Empire Room are perfect spaces to host a mid-sized wedding or event. Hosting up to 300 or 250 guests respectively for a standing reception, these rooms feature all the beautiful historic details that are typical of the Landmark London: natural light, dramatic ceilings, original fireplaces and stunning chandeliers, each with their own style and character.

The Tower Suite
The Tower Suite at the Landmark London overlooks the atrium from the fifth floor and is an intimate, private space made up of three small interconnected rooms, including a central domed room that would make a beautiful space for a wedding ceremony. The Tower Suite has capacity for up to 60 guests for a standing reception, 40 for a ceremony and 36 for dinner.

The Landmark London Hotel Catering
A meal at the Landmark London is an event in itself. Modern European fare characterises the menu at the Landmark London, presenting an artistic take on classic dishes, with the talented chefs creating dishes that are as striking to look at as they are mouth-watering to taste. 
Don't miss the impressive cocktail and wine menus or the delightful dessert menu that will have you coming back for more. 
Highlights of Catering at The Landmark London Hotel:
Bespoke menus available

Creative, classic dishes

South Asian and Kosher menus available
Download Brochure
Location
Nearby attractions:
Regent's Park

Madame Tussauds London

The Sherlock Holmes Museum

The Wonderpass
Restaurants nearby:
The Potting Shed

Dinings

Roadster Cafe Marylebone

Ishtar

Romna
Restaurants on site:
Winter Garden Restaurant

Garden Terrace

Great Central Bar Restaurant

The Mirror Bar
Venue Testimonials
We had our company Christmas party here. The place is amazing. The rooms were excellent, good service and the decor and vibe was great. They did an excellent job of decorating for the holiday as well. The location is easy to get to as it's immediately outside of Marylebone station. Would highly recommend this place.
Ken D. ·
Nice ambience and decorations around in the "winter garden". It gets even more beautiful when the sky turns darker and the restaurant light up the palm trees. The service was good, with friendly staff around.
Annie F. ·
We were here for an Easter Wedding Indian style, the best thing about the hotel has to be the incredible personal service, and the ambient atmosphere in the lobby with palm trees and huge skylight, a lovely place to read your book or newspaper. The wedding in the Grand Ballroom and Marble Ballroom was well organised.
Steve K. ·
Request A Quote
Frequently Asked Questions
Contact Komal
Komal has been planning high-end weddings since 2017 and specialises in curating luxurious experiences at events across London. You'll love Komal's creativity, organisation, and meticulous eye for detail as you work with her to find your dream venue.
Download Wedding Packages & Pricing
Get information about package options, pricing, facilities, and much more!
Similar Venues
---