13 Rustic Wedding Venues in the Heart of London
By Aneeza Qureshi /London Venue Expert
Mon 17th Oct 2022 Wedding Venues
Choosing a rustic wedding venue in London is not an easy task — there are hundreds of event spaces to choose from! But if you're a couple who wants a romantic and charming venue that's a little bit boho, we've got you covered.
Picture your wedding at a quirky Yacht Club on the banks of the River Thames. Or at an iconic former 18th-century warehouse converted into a pub. We've even included the iconic Tower of London as an option.
All the rustic wedding venues and spaces listed here are located in the heart of London, allowing easy accessibility and plenty of urban photo ops.
So, let us help you hone in on your wedding day plans with a rustic wedding venue in London that everyone will love.
East London hosts one of the city's most unique industrial rustic wedding venues. If your preferred style is exposed bricks and high ceilings, consider this former brewery. This space is most suited for a small wedding of 100 people or less; plus, they partner with some of London's most sought-after Chefs to deliver a memorable meal on your big day!
Get Info on The Hackney Weddings
Garden Museum sits in all its glory on the banks of the River Thames, with all the presence you'd expect of a medieval church. Surrounded by a leafy garden and with views across the river to the Houses of Parliament, this venue offers a truly unique, rustic event space in its former church.
Soaring, vaulted ceilings and stained glass windows make the museum feel grand, while the courtyard garden brings a lively element to the grounds.
Get Info on Garden Museum Weddings
Greenwich Yacht Club is perfectly placed on the banks of the Thames River. It's home to spectacular and light-filled spaces that can easily be utilised for the riverfront wedding of your dreams. Since you can hire the outdoor decking, the main hall, and the reception bar as one, you get a smooth flow of activity throughout the event.
Greenwich Yacht Club is a dry-hire wedding venue, so you'll be free to make the event your own by hiring outside vendors. Plus, the private pontoon allows you to get creative with a grand wedding entrance and exit via boat.
Get Info on Greenwich Yacht Club Weddings
Century Club is an exclusive members' club located in the heart of Soho. It's a contemporary option, and you can choose from various function spaces here that can fit up to 150 guests. Despite being located in the Westend, one of the busiest areas in London, it feels like a secret oasis and is often referred to as a hidden gem.
For your wedding, why not consider their signature rooftop terrace? It's the largest space of its kind in Soho, and it feels like a romantic little private city getaway.
Get Info on Century Club Weddings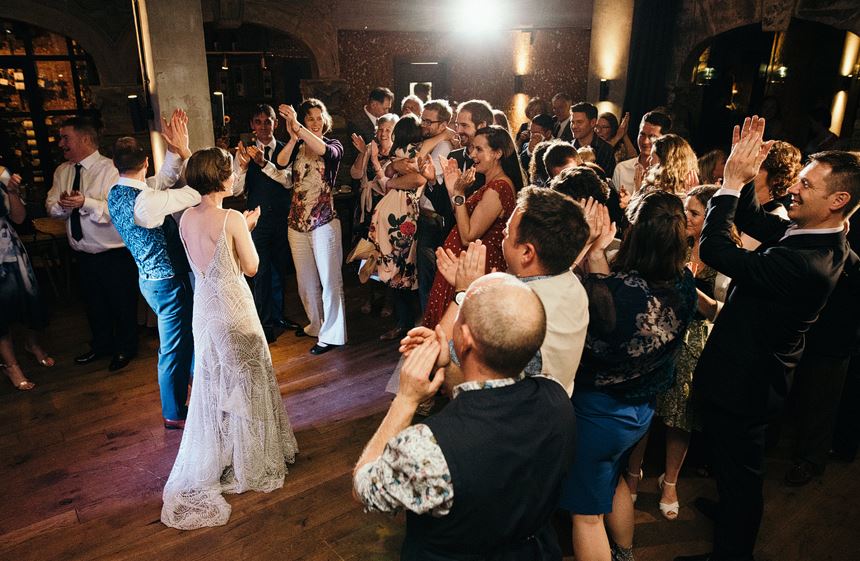 Humble Grape Fleet Street is one of the most beautiful rustic wedding venues in the city. Hidden deep within the vaults below St Bride's Church on Fleet Street, built in the 1600s, this historic venue is totally one-of-a-kind.
The wine bar is a local favourite, boasting a selection of 400+ wines. For food and wine lovers, hiring this venue exclusively for a wedding means you'll have an awesome menu served in an intimate, rustic setting that doesn't need anything fancy to look romantic and rustic.
Get Info on Humble Grape Fleet Street Weddings
Rustic, elegant, unique — it doesn't get any better than hosting your nuptials at this UNESCO world heritage site. Here, you'll work with a dedicated Royal Historic Palaces event coordinator to hire the catering team and wedding production squad of your dreams.
Over a thousand years of history, dramatic architecture, and various event spaces to choose from make The Tower of London one of the most sought-after wedding locations in London. Epic views include the River Thames and Tower Bridge.
Get Info on The Tower of London Weddings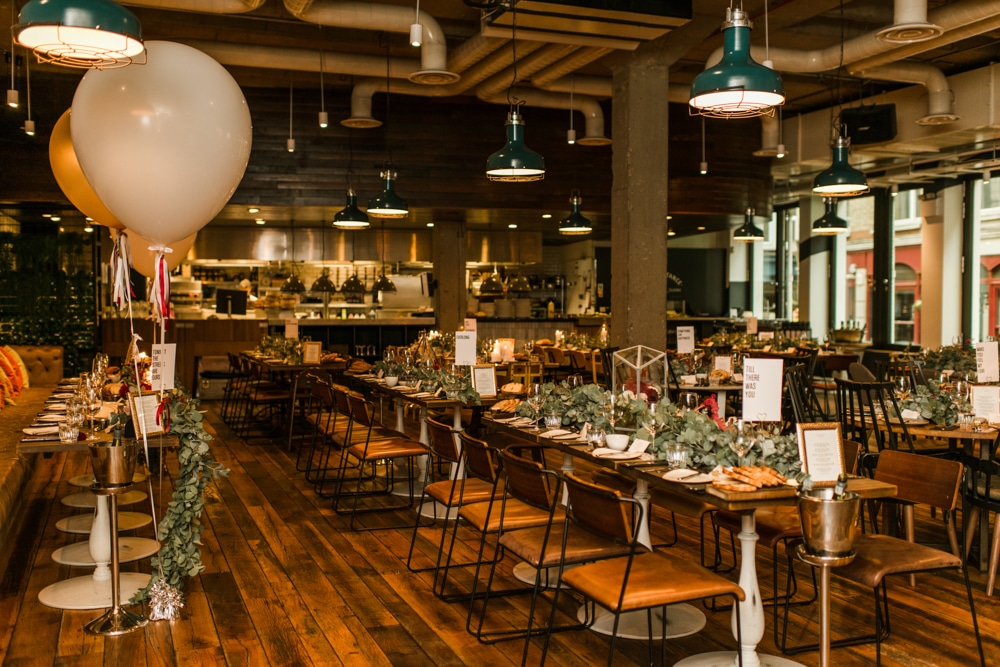 Hidden just beneath the London Stock Exchange, you can find one of the best rustic wedding venues in the heart of London — a place where you have the option of hosting an incredible event overlooking St Paul's Cathedral.
The Happenstance is a restaurant that's well-known for its excellent food and drink offerings — which include delicious handcrafted cocktails. Of course, it also doubles as a fun and unique wedding venue where you can choose from a chic dining room or spacious open-air terrace for your big day.
Get Info on The Happenstance Weddings
Hidden behind the National Theatre in London is one of the loveliest rustic wedding venues in the city. This modern timber pavilion is surrounded by a lush garden and boasts a stunning outdoor bar.
At The Green Room, you can choose from indoor or outdoor event spaces, or rent the entire place exclusively for a wedding of up to 300 guests. The menus highlight sustainably sourced British ingredients, so if you're a food-loving couple, this is the spot for you!
Get Info on Green Room Weddings
Why not get married at a quintessentially British establishment — the traditional English pub? The Bull & Gate features characterful Victorian-era interiors and appears as though it has jumped from the pages of a history book.
The charming event spaces here are ideal for a more relaxed, rustic wedding, and the space is licensed for wedding ceremonies. Meanwhile, menu highlights include martini trees and hawker trays of ice cream.
Get Info on The Bull & Gate Weddings
At Woolwich Works, a grand industrial space effortlessly entwines contemporary style with historic charm. Whether you're having an intimate or a large event, there are plenty of suitable event spaces to choose from here.
The riverside location means that your ceremony photos will be breathtaking. Plus, your guests may arrive by boat at the Greenwich Arsenal Pier, right next door!
Get Info on Woolwich Works Weddings
The Admiral Hardy is one of those wedding venues that provides the best in old-world charm. This relaxed yet chic rustic pub is conveniently located close to Greenwich Park.
In addition to its two bright, vintage-style function rooms, the pub is home to seven stylish guestrooms. Not only can you stay the night before and after your wedding, but you can get ready on-site and have your closest friends book the other suites.
Get Info on The Admiral Hardy Weddings
Wedding at The Dickens Inn in LondonThis 18th-century warehouse is now a pub and event house that caters to all your wedding needs. The space features exposed wooden beams and alfresco terraces with views of the famed Shard and Tower Bridge, ensuring your photos will fully capture that London romance. Dickens Inn is located in central London, overlooking St. Katherine Docks.
Get Info on Dickens Inn Weddings
Balfour St Barts is a rustic wedding venue in London with a lot to offer. It's in central London and features views of the busy Smithfield Market and the grand St Paul's Cathedral. The building was originally built in the 1880s and is now home to a charming and spacious reception area.
You can rent the entire venue if you want to play up the space's grandeur. For a more casual affair, check out the Upper Mezzanine or the Lounge.
Get Info on Balfour St Barts Weddings

We can help you find the perfect rustic wedding venue for *your* wedding! Get in touch today for personalised recommendations — it's free!