Sydney Wedding Venues You'll Love if You Love Father of The Bride
By Lauren Morison /Australian Venue Expert
Mon 27th Feb 2023
Wedding Venues
Image via Everett Collection
Did you grow up watching Father of the Bride and absolutely love it? Discover Sydney wedding venues you'll love that will help you live out your fantasy of a beautiful, intimate backyard-style wedding.
Unlike Father of the Bride's George Banks, your idea of a backyard wedding probably isn't your family barbecuing the food, blowing up some balloons, and calling it a day. Instead, you might want something along the lines of what Annie had in mind. We're talking backyard weddings with luxurious touches to create warm and intimate yet polished and elegant wedding ceremonies.
The only problem is you may not have a backyard or a big enough backyard for such an event. So, can you get that homey and chic aesthetic from a wedding venue without everything feeling too OTT? In short: Yes!
These Sydney wedding venues have a mix of indoor and outdoor space, creating an intimate ambience for you and your guests. For more personalised recommendations, contact our venue experts and we'll figure out exactly what you're looking for and where to find it.
If you want an exclusive wedding, you might just love Terrace House. How can you not when it offers you manicured English gardens, rural farmland, ancient 100-year-old trees, and a huge mansion all to yourself? The estate features a huge swimming pool, an outdoor chess set, a croquet lawn, a maze garden, a tennis court, and a fancy spa — everything you need to have that private manor wedding vibe.
We know you want that personalised touch, so you'll be glad to know that Terrara House serves as a perfect blank canvas. You can turn it into your dream destination with the help of the venue's in-house hospitality team and their customised packages.
Burnham Grove Estate is one of the most intimate wedding venues Sydney has to offer, gifting you with the dreamy garden ceremony you long for. Just picture an elegant marquee with see-through walls, tall hedges, sparkling water fountains and ponds, and even an 1860s heritage barn.
The venue's various wedding sites include gardens and marquees. Here, you can have any space tailored to achieve your wedding vision with glittering chandeliers, festoon lighting, and more. You'll get a fully personalised package.
GET INFO ON BURNHAM GROVE ESTATE
You won't stop gushing over Bellevue Cottage by Antoine if you've always dreamed of cottage wedding venues in Sydney with an air of French sophistication. This French restaurant offers you a picturesque view of Blackwattle Bay, and the 1986 cottage is charming and heritage-listed, boasting Victorian ceilings, iron details, sand-coloured walls, and rustic textured walls.
You can also expect a reasonable backyard wedding budget and a tailored package. For instance, you can select your favourite dishes from French cuisine for your perfect menu. And we can't forget about the chic alfresco terrace, which gets tons of sunlight and makes for the perfect photoshoot location.
GET INFO ON BELLEVUE ESTATE COTTAGE
Dunbar House Sydney is another stunning home-like venue with a seamless connection to nature. The venue overlooks Watsons Bay and has outdoor and indoor spaces, featuring everything from ocean views, a gorgeous terrace, and a romantic fig tree to decorative interiors, crystal chandeliers, and gorgeous wallpaper.
In case of unpleasant weather surprises, you don't have to put swans in your bathtub or dry flowers with a blow dryer, thanks to Dunbar House's upper level! As for the icing on the cake, it's the delectable dishes with locally-sourced ingredients and British and Asian influences.
Make your rustic yet sophisticated dream wedding a reality with Estate Tuscany. Nestled between the rolling hills, mountain ranges, a gorgeous fountain, and 300 acres of romantic vineyards, this venue is the perfect secluded location for an intimate and romantic ceremony.
With on-site accommodation for you and your guests, you'll certainly have a long weekend, which is more than enough time for a father-daughter dance and every other highlight on your itinerary! You can also relax in the in-room massage treatments and a resort-style pool. Not to mention, you'll have an award-winning restaurant serving you and your loved ones curated dishes that'll transform the way you think about wedding food.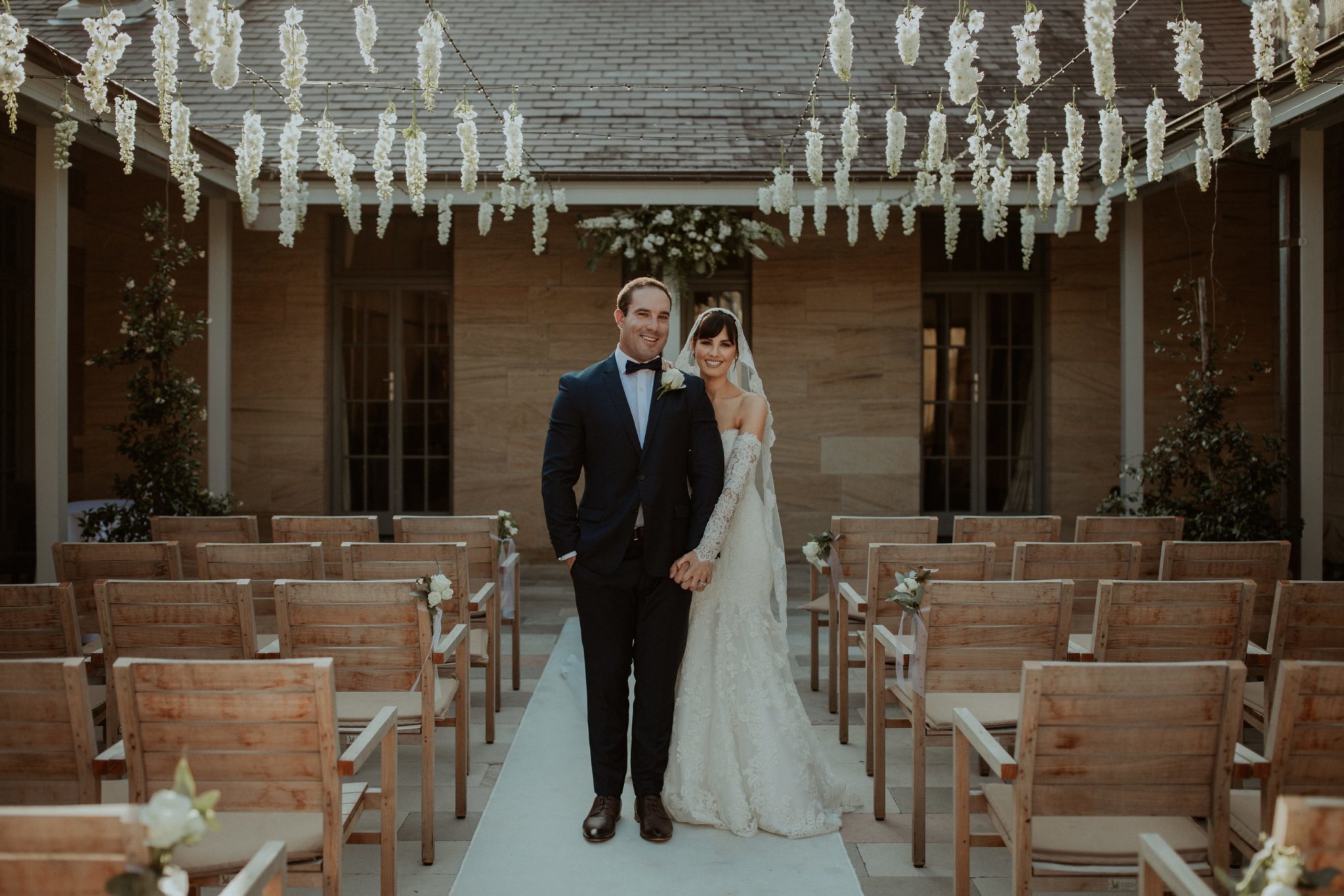 Exchange vows with your significant other, surrounded by the stunning Sydney Harbour, Georges Heights, and Mosman views. If you're all about that vintage charm, Gunners' Barracks is a real gem. You can hold your ceremony in the Sandstone Courtyard with its twinkling fairy lights to get all the intimacy of a backyard wedding vibe but with a tinge of luxury!
As for the architecture, Gunners' Barracks is a historic sandstone featuring classic interiors, vintage touches, and an elegant waterfront terrace for your guests to enjoy. The venue comes with a dedicated coordinator and five-star dining experience to ensure that your wedding is just what you've envisioned!
Need help pinpointing which venue will give you the perfect Father of the Bride moment? We're here to help you find the most suited Sydney backyard venue for you; just get in touch!