13 Stunning Art Deco and Vintage Wedding Venues in London
By Kelly Collins /London Venue Expert
Mon 28th Nov 2022 Wedding Venues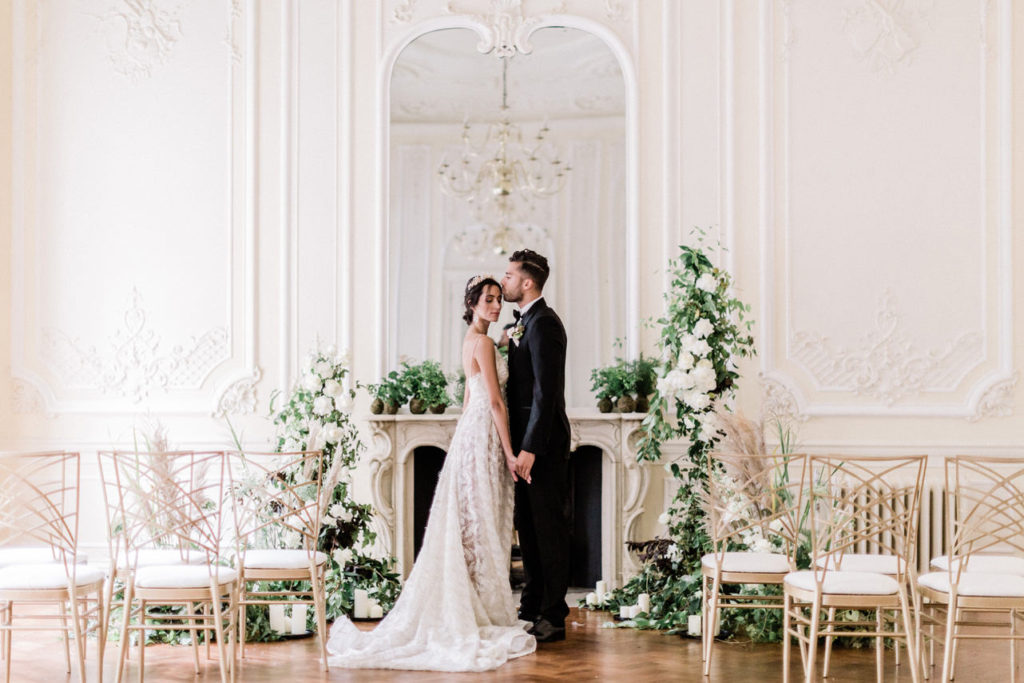 Of the many exciting attractions the UK's capital boasts, London's extraordinary array of eye-catching architecture and historic buildings is second to none. You'll find everything from state-of-the-art venues right through to centuries-old exclusive clubs, with lavish brickwork reflecting a refined and elegant period.
If you're looking for a wedding venue brimming with class, but with a mood that modern venues can't capture, then London is a sure-fire winner. Within the city and its surrounding areas, you'll find larger-than-life country estates, elegant Georgian townhouses, and even wondrous nature reserves — all of which offer you the chance to bring your dream wedding to life.
In this article, we'll break down some of London's most stunning Art Deco and vintage wedding venues, but these aren't your only options. Get in touch with us for a more customised recommendation based on your wedding style and budget.
20 miles outside of the busy city is the gorgeous 17th-century Hatfield House. With everything you'd expect from a luxurious, vintage country estate and more, its lush, ornate maze gardens and magnificent stately façade will add a touch of grandeur to your wedding snaps – and that's just the outside!
Heading indoors, you'll find the Old Palace is the perfect spot for a ceremony or reception. It offers high ceilings and large windows that add a larger-than-life atmosphere to your day. For smaller events, the venue's Riding School location offers a crisp, contemporary wedding setting, with exquisite lighting and stripped-back décor, for a simple but no less stylish event.
Fancy hosting your wedding at one of South London's premier vintage venues? Then you need to check out Addington Palace. Nestled in leafy Croydon, this 18th Century Mansion offers acres of landscaped gardens and rolling lawns, welcoming you and your guests as you arrive for your big day.
Once inside you'll find the majestic Great Hall, complete with dazzling chandelier and artful gold wall coverings, a large and wonderful space fit for both service and reception. Between events, why not enjoy a canape on the manicured south lawns before posing for pictures with the lush surroundings and impressive mansion façade as your backdrop?
If you'd like to get closer to nature on your wedding day, why not take Port Lympne Hotel up on their offer to host your wedding? An expansive nature reserve, it also functions as a spectacular indoor and outdoor space for vintage all-in-one weddings.
Outdoors, tucked within magical gardens and winding walls is a beautiful pergola area, the perfect focal point for your ceremony. Inside the hotel itself, is a stunning orangery room where you and your guests can tuck into locally sourced menu options before either heading to the adjoining deck to take in the picturesque surroundings or to the dancefloor to party!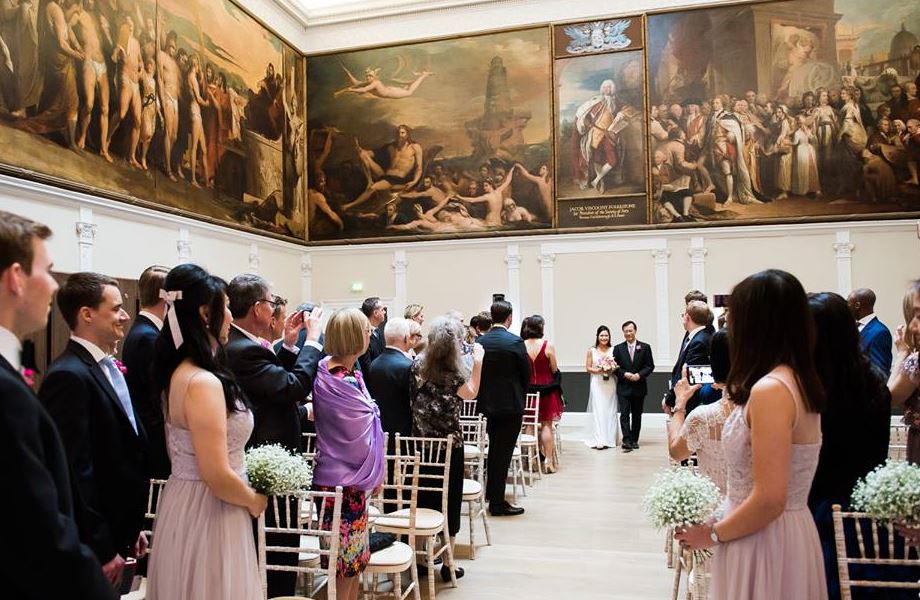 Couples looking for wedding venues in Central London will be wowed by lavish Georgian townhouse venue, RSA House. Upon entry, you'll note the sweeping marble staircase, immediately demonstrating the grandeur this wedding venue has to offer.
Oh, and did we mention that you can marry in the very place Graham Alexander Bell first revealed the telephone? Yes, The Great Room not only boasts this but also a breath-taking domed glass ceiling, allowing plenty of light in on your special day. For something a little smaller, the Underground Vaults are a sight to behold, allowing for an intimate and atmospheric event that is all your own.
Formerly London's Midland Bank building, this exclusive City of London hotel and club makes for an inviting wedding venue too! Offering a total of six event rooms and two gorgeous outdoor terraces, The Ned has plenty to offer.
Take the elegant Tapestry Room for instance, with its luxurious walnut panelling and vintage chandeliers, it's a great location for a banquet-style reception. Elsewhere, the light-filled ambiance of The Saloon, with its ornate central fireplace and restored parquet flooring, makes an exceptional setting for exchanging your vows. Experience historic London heritage on your wedding day at The Ned.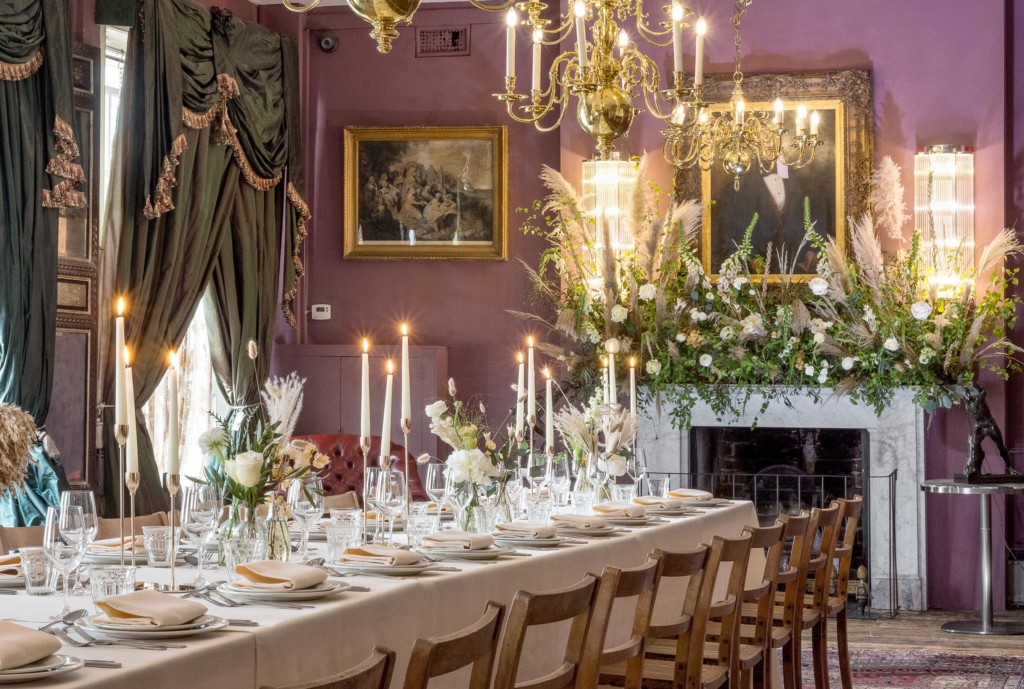 Sitting on the banks of the Thames since 1758, Brunswick House is a wonderful period property that doubles as a stunning wedding venue. With a choice between both intimate and larger rooms, Brunswick House offers couples the choice of both smaller spaces and whole house hire for when you want to squeeze in those extra few guests!
For smaller weddings, you'll find The Study with its ornate fireplace and period décor ideal, while larger parties may want to hire the Saloon with its roof terrace for taking in the city at night. Top it all off with sumptuous organic dishes courtesy of their critically acclaimed in-house team for an unforgettable wedding day experience.
A remarkable Grade I listed building in the heart of West London, Fulham Palace is exactly the regal residence its name implies, not to mention a great setting for your wedding. Boasting delicious menu options from Michelin-trained chefs, that's just one of the impressive features this fabulous venue offers.
Those looking to marry in style will love the spacious Great Hall, complete with a central fireplace and vintage wood panelling. After your ceremony, enjoy drinks with friends and family in the Garden Marquee, looking out onto beautifully maintained lawns. With a variety of stunning rooms, complete with period features you won't find anywhere else, Fulham Palace welcomes wedded bliss to its grounds.
If you're looking for a country wedding where you can escape the big city, Kirtlington Park, in the heart of the Oxfordshire countryside shouldn't be overlooked. Surrounded by 3000 acres of landscaped parkland, the venue offers elegant Classical era features with up-to-date amenities to make sure your day goes off without a hitch.
The Saloon and Great Hall are superb choices for both ceremony and reception, the former boasting soaring ceilings and an impressive dancefloor, while the latter is an elegant, light-filled space that makes a great setting for your wedding breakfast. Whatever your wedding vision is, let the team at Kirtlington bring it to life for you.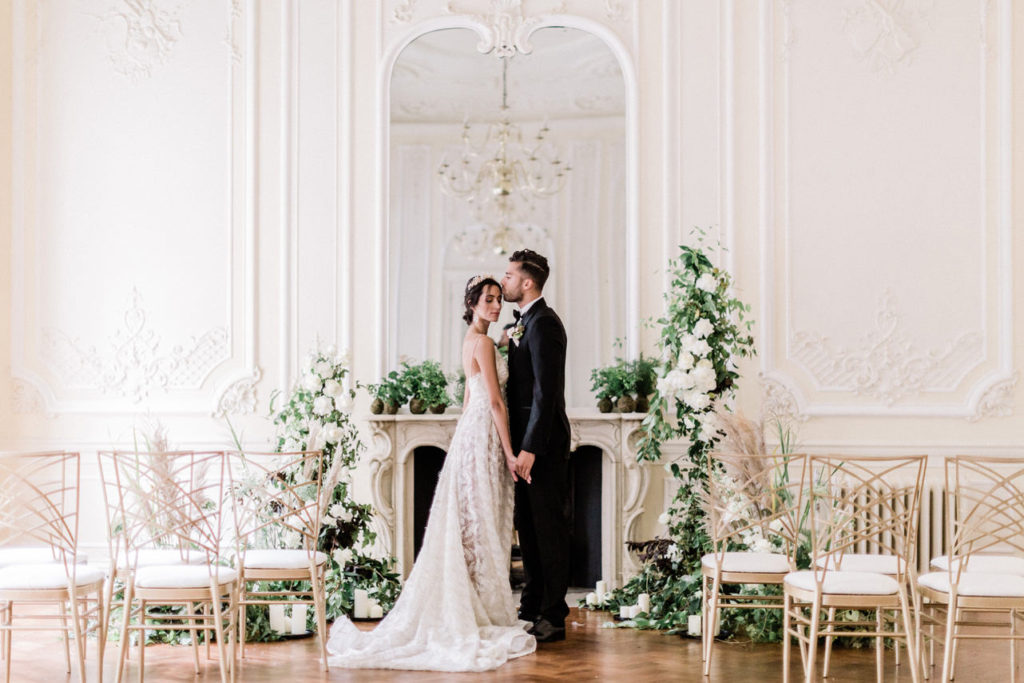 Brimming with calming, elegant colour and art deco charm, Carlton House Terrace offers the perfect canvas for all your wedding day ideas. From the warming pastel décor of the Music Room to the opulent but intimate Cornwall Room, you'll find fine period detail throughout this gorgeous venue.
For pure spectacle, why not enjoy pre-dinner drinks in the Lobby of No.10, with its magnificent black marble staircase, before enjoying stunning views of St James Park and fine British cuisine in the spacious Wolfson Room? Perfect for sophisticated, classic weddings, Carlton House Terrace delivers style and warmth by the gallon.
GET INFO ON 10-11 CARLTON HOUSE TERRACE
If it's space you're after, look no further than Home House, a luxury Marylebone wedding venue set across three Georgian townhouses. Smaller wedding parties may enjoy an exchange of vows in the eccentric neoclassical surroundings of the Octagon or Asylum Rooms, while larger guest lists should inquire about the Front Parlour and Eating Room.
These two beautiful spaces feature eye-catching detail and large windows, perfect for letting the sun shine on your ceremony or wedding breakfast. Boasting 23 elegant guest rooms as well as a boutique health spa, why not invite guests to stay over and enjoy a relaxing wedding weekend with the happy couple?
Greenwich's The Admiral Hardy offers all the warmth and charm of a London pub combined, with the elegance befitting of your vintage-style wedding day. Its two main spaces offer diverse and inviting atmospheres, leaving you and your guests feeling right at home. With an open fireplace and rustic furnishings, The Hardy Room is a great space for ceremonies and intimate wedding meals.
For those looking for a room to wed, dine, and dance, you'll find the Clarence Room fits the bill, featuring a mezzanine level, private bar, and impressive high ceilings. A hub of neutral colours ready for you to make entirely your own, The Admiral Hardy and its dedicated events team look forward to welcoming you.
Those looking to impress their guests should consider the prestigious and historic Dulwich College as their wedding venue. Set on 70 acres of lush and leafy grounds, the college offers stunning backdrops aplenty for wedding snaps as well as beautiful outdoor ceremonies.
The Barry Buildings which include the Great Hall, Lower Hall, and Cloisters combine truly mesmerising high ceilings with church-like windows, creating a sense of awe and grandeur on your big day. Food-wise, you're spoiled for choice with both indulgent feasts, tempting canapes, and gourmet barbeques on offer from the talented culinary team.

Not sure which vintage wedding venue in London is the best fit for your wedding? Let's chat. Our local wedding venue experts have searched through the best Art Deco wedding venues and historic spaces, and we can give you a free recommendation based on your plans.