The Ivory Elsternwick
(3 Reviews) Visit Website
37

,

Clarence Street

,

Elsternwick

,

Victoria

,

3185

,

Australia
---
The Ivory Elsternwick Weddings
Whether you wish for an intimate or extravagant wedding, this all-in-one Melbourne venue won't disappoint. Its fresh take on an old-world romance makes it a striking space to spend your wedding day.
You and your guests will be swept up among the sparkling silky drapes of the Ivory ballroom and the picturesque, vine-twirled arbours. Whatever style you're after, whether contemporary or beautifully antiquated, this venue will accommodate. 
The Scene at The Ivory Elsternwick Melbourne
Tucked away on the charming streets of Elsternwick, less than 30 minutes from Melbourne's CBD and just a 10-minute drive from Brighton beach, stands the recently refurbished Ivory Elsternwick — a modern twist on a classic gem. 
You'll be drawn into the venue's atmosphere of wonder and luxury the second you step through the white arbours and rose garden terrace. The elegant detailing paired with the breathtaking features of the stylish foyer and grand ballroom will turn your wedding celebrations into an unforgettable experience. 
After your ceremony in the rose garden courtyard, you can enjoy canapés and drinks in the foyer, followed by a vibrant reception within the glowing ballroom. A personal bridal suite and dressing room filled with thoughtful details, a warm fireplace, and drinks at the ready are also available for you to enjoy a few quiet moments before returning to your guests. 
Dedicated to bringing your wedding vision to life, The Ivory Elsternwick team will ensure that every detail is taken care of, so you can sit back, relax, and soak up the magical atmosphere. 
The Ivory Elsternwick Melbourne Wedding Ceremonies
For a fairytale-inspired setting for your ceremony, look no further than The Ivory Elsternwick. With multiple styling options and the already-vivacious surroundings, your wedding ceremony won't be short of character and romance but bursting with photo opportunities. 
The striking white arbours that lead into the lush rose-garden courtyard strung with lights create a stunning backdrop for your ceremony. Against the Georgian-style façade and bright, airy terrace, you'll say your vows under plenty of natural sunlight and vibrant greenery. While it's hard not to indulge in the iceberg roses, living green wall, and manicured hedges, the foyer is an excellent choice if you prefer an indoor ceremony. 
With the perfect blend of modernity and old-time charm, the foyer is made up of striking features to give your ceremony a little extra spark. An intricate chandelier hangs above dark hardwood flooring, a baby grand piano, and a distinct fluted-timber bar — the delicate crown mouldings and copper-rimmed pendant lights highlight how tasteful this space is. 
The Ivory Elsternwick Melbourne Wedding Receptions
Easily one of the most popular features at Melbourne's Ivory Elsternwick is the exquisite ballroom where you and your guests can enjoy a romantic dance on the dancefloor underneath the dramatic, backlit draped ceiling. The hanging, blush silk glowing above your heads provides the perfect fairytale aesthetic. 
This spacious, sophisticated reception area allows your guests to move around freely or sit back and watch the magic unfold from the sidelines. This timeless space perfectly blends simplicity with extravagance. 
The stage lighting system is fully customisable to suit any wedding reception theme you desire. Wishing wells, gift tables, spotlights, and other lovely details are included in the wedding packages. 
Wedding Photography Near The Ivory Elsternwick Melbourne
Some of the most popular wedding photography locations near The Ivory Elsternwick are:
Parliament House
St Kilda Botanical Gardens
Elwood Beach
Request A Viewing
Capacity
Up to
350
Sitting
Up to
400
Standing
Wedding Venue Details
Wedding Services
Ceremony & Reception
Wedding Ceremony
Indoor
Outdoor
Spaces At This Venue
Ballroom
The ballroom overflows with elegance and grace. It offers a glowing, silk-draped ceiling, customisable lighting to suit any colour or theme, and a spacious dancefloor.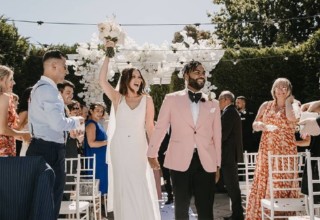 Rose Garden Terrace
The rose garden terrace is flooded with natural light, surrounded by manicured hedges and stunning Wisteria vines crawling up the white, Georgian-style arbours.

The Ivory Elsternwick offers an abundance of delectable meals. In-house chefs curate the perfect, extensive meal selection for you to choose from, ranging from cocktail-style food to multi-course meals. 
Dietary requirements and preferences are taken into consideration, with vegetarian, vegan, gluten-free, and dairy-free options available. The Ivory Elsternwick also accommodates FODMAP, Kosher-friendly, and halal. 
Highlights of Catering at The Ivory Elsternwick:
Extensive menu options, including irresistible desserts, and a beautiful array of delicious entrees, main courses and side dishes

Dairy-free, gluten-free, vegan, and vegetarian options

FODMAP, halal, and Kosher-friendly

Unique 'His & Her' cocktails 

Late-night snacks available, including gourmet toasties, crumbed mac & cheese, and triple cooked fries
Download Brochure
Location
Nearby Attractions:
Parliament House
Brighton Bathing Boxes
St Kilda Beach
St Kilda Botanical Gardens
Elwood Beach
Nearby Hotels:
Quest St Kilda Bayside
The Prince St Kilda
Quest Brighton on the Bay
Brighton Serviced Apartments
Kimberley Gardens Hotel
CBD hotels and Airbnbs
Venue Testimonials
As soon as we visited The Ivory Elsternwick we fell in love! We had Claire as our coordinator - She was super lovely to deal with & was with us throughout the planning stages. The Ivory has so many special little touches such as the grand piano, fireplace & outside greenery wall. The stand out for us was the dramatic blush bud-lit ballroom ceiling that gave our wedding the romantic vibe we were after.
Jessica A. ·
We want to thank Claire who helped us achieve our vision and our special day come to light. It was the most magical day! After one year, we still can't believe that our wedding day went so smoothly, people are still talking about how amazing the food was and the place was.
Katerini B. ·
Request A Quote
Frequently Asked Questions
Videos
---
Contact Lauren
Skilled in logistics and planning, Lauren has worked in the wedding and events industry since 2011. While she finds weddings to be incredibly rewarding work, she also loves a good party or special event of any magnitude.
Download Wedding Packages & Pricing
Get information about package options, pricing, facilities, and much more!
Similar Venues
---