113 Chancery Lane
(3 Reviews) Visit Website
113

,

Chancery Lane

,

England

,

WC2A 1PL

,

United Kingdom
---
113 Chancery Lane London Events
Home to the Law Society, 113 Chancery Lane is one of central London's most prestigious venues, and has the décor and setting to match. From the outside, the pillared portico and golden lions — designed by Alfred Stevens and once housed in the British Museum — that adorn the entrance give a taste of what's to come from the Grade II* listed building: grandeur, tradition, majestic architecture, style, and impeccable service.
Inside, a striking, red-carpeted staircase greets guests at 113 Chancery Lane, before leading into multiple rooms that are available to hire for your event. Each one is distinctive and varies in size, but one thing remains the same: their impressive stature. 
Beautiful alcoves, stained-glass windows, grand chandeliers, and marble pillars give this venue opulence and a sense of history, all seamlessly and subtly integrated with the technology needed for a modern event.
From large central London weddings to business meetings and corporate dinners, 113 Chancery Lane is a versatile events venue that will leave a lasting impression, with a dedicated expert team who will ensure your every need is catered to. 
Highlights of 113 Chancery Lane London Events:
Prestigious, Grade II* listed building

Exclusive hire available on weekends

Partnered with expert caterer CH&CO

Central London location
Request A Viewing
Capacity
Up to
280
Theatre
Up to
100
Classroom
Up to
40
Boardroom
Up to
144
Cabaret
Up to
200
Dining
Up to
300
Standing
Facilities
Carpark Locations
Saffron Hill
Holborn Gate
---
Catering Options
3rd Party Catering
In-house Catering & Dry Hire
Cuisine Options
Buffet
Sit Down
Cocktail
Food Stations
Shared Platters
Asian Cuisine
Indian Cuisine
Kosher Cuisine
African Cuisine
Mediterranean
Spaces At This Venue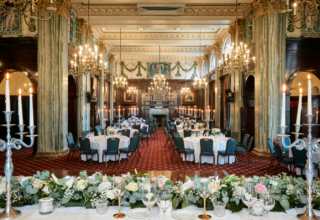 The Dressler Common Room
Your guests will enter by the sweeping staircase, preparing them for the wealth of decorative features within. Graceful marble pillars draw the eye to Conrad Dressler's celebrated Persian frieze depicting divine justice, and 17th-century stained glass windows, mahogany panelling, and a peacock-tiled fireplace make this room a unique and beautiful setting.

The Bayes Reading Room
With its graceful fireplace frieze and sculpture of Athene carved by British sculptor Gilbert Bayes, best known for the Queen of Time clock above Selfridges' main doorway, and flanked by soaring marble columns, the spacious Bayes Room on the ground floor is exceptionally versatile.

The Hardwick Suite: Strand, Fleet, and Bell
Bright, airy meeting spaces with an intimate feel.

The David Lloyd George
Intimate space that's great for corporate and social events.

Sergeants Six Clerks + Holmes Old Book Shop
The site of the original Six Clerks' Office and the old Law Society's personal bookstore are charming intimate rooms for small events, bridal suites, or breakout sessions.

The Rawle Council Chamber
An ideal presentation space with a roomy feel.

113 Chancery Lane London Catering by CH&CO
Catering at 113 Chancery Lane comes from CH&CO, whose team of nutritional experts and chefs create bespoke menus for each event. 
They have a focus on sustainably sourced, seasonal, and local produce, and are all about creating memorable, exciting experiences through food. The motto here is that food should taste good and feel good.
Highlights of Catering at 113 Chancery Lane London:
Award-winning caterer CH&CO

Bespoke menus

Fresh, local, and sustainably sourced produce
Download Brochure
Location
Nearby attractions:
Strand / Aldwych

Holborn

Somerset House

Victoria Embankment & Middle Temple Gardens
Restaurants on site:
Restaurants nearby:
Cigalon

Gaucho Chancery Lane

Clifford's Restaurant

Tas Restaurant
Hotels nearby:
The Z Hotel City

Apex Temple Court Hotel

Citadel Apartments Fleet St

SACO Fleet Street – Crane Court
Venue Testimonials
Thank you so much. We had the most fantastic day. The service was top notch and the setup was beautiful. Couldn't have wished for a better venue.
Laura & Paul ·
Excellent! - This place is great! It is far more modern on the inside than the grand surroundings of the Law Society may lead you to believe. Excellent food and service.
Rochdale ·
We went there for our work Christmas lunch. [...] We were happy with everything really. Service was good. Atmosphere and decoration was perfectly pleasant. [...] All the food was good and prepared well.
Sidji ·
Request A Quote
Frequently Asked Questions
Contact Kelly
Kelly's been planning weddings and events across London since 2016. Her knowledge about the most stylish venues across the city is unparalleled, and she's so easy to chat with that she'll have your venue sorted in a matter of minutes.
Download Wedding Packages & Pricing
Get information about package options, pricing, facilities, and much more!
Similar Venues
---