London Wedding Venues with Stunning Courtyards
By Kelly Collins /London Venue Expert
Mon 20th Feb 2023 Social Venues
Exploring London wedding venues is an exciting part of the planning process. From researching top hotels online to visiting historic buildings, selecting your wedding venue is a deeply personal experience.
If you envision your wedding with an abundance of natural light, fresh air, and impeccable decor, a London courtyard wedding venue could be the perfect match for you. Nothing beats nuptials amongst a lush courtyard on a beautiful day.
Based in the stunning Kent countryside, the Port Lympne Hotel & Reserve provides all you need for a courtyard wedding. Here you'll find a garden pergola surrounded by vivid greenery and a Moroccan-style courtyard with signature pastel pink walls. Whatever your courtyard wedding vision entails, you'll find it at this award-winning wildlife reserve.
GET INFO ON PORT LYMPNE AND RESERVE
When it comes to London wedding venues, No 11 Cavendish Square is always a venue to consider. This breathtaking Grade II listed Georgian townhouse ticks all boxes. From a central location to historical details, it's romantic through and through. However, it also offers an inner city garden courtyard, perfect for couples who want serenity without leaving the busy capital. Peace and tranquillity without travelling from Zone 1!
GET INFO ON NO 11 CAVENDISH SQUARE
For a Mayfair-based London courtyard wedding venue, consider holding your nuptials at Dartmouth House. Within this Georgian mansion, you'll find a spacious outdoor courtyard framed with beautiful architecture and delicately designed shrubbery — the perfect mixture of antique details and outdoor space.
Many London hotel wedding venues strive for an all-British experience, but no venue does it better than the famous Langham London. Here you'll find endless venues and reception spaces — including the refreshing Courtyard Garden, one of the oldest private gardens in the city. This antique location has been a celebrity and royal favourite for decades, and we can see why.
GET INFO ON THE LANGHAM LONDON
The Wallace Collection provides fine art, timeless artefacts, beautiful architecture, and a unique courtyard space. This one-of-a-kind London wedding venue is a must for art lovers, allowing you to wed amongst classic paintings and celebrate in an exquisite courtyard unlike any other location in the city.
GET INFO ON THE WALLACE COLLECTION
For a fusion of modern sophistication and five-star luxury, add the South Place Hotel to your list. Here you'll find a Michelin-star restaurant and an open terrace space for events and private dining. If you're all about chic design and natural light, this is the courtyard for you. London hotel wedding venues don't get more glamorous than this!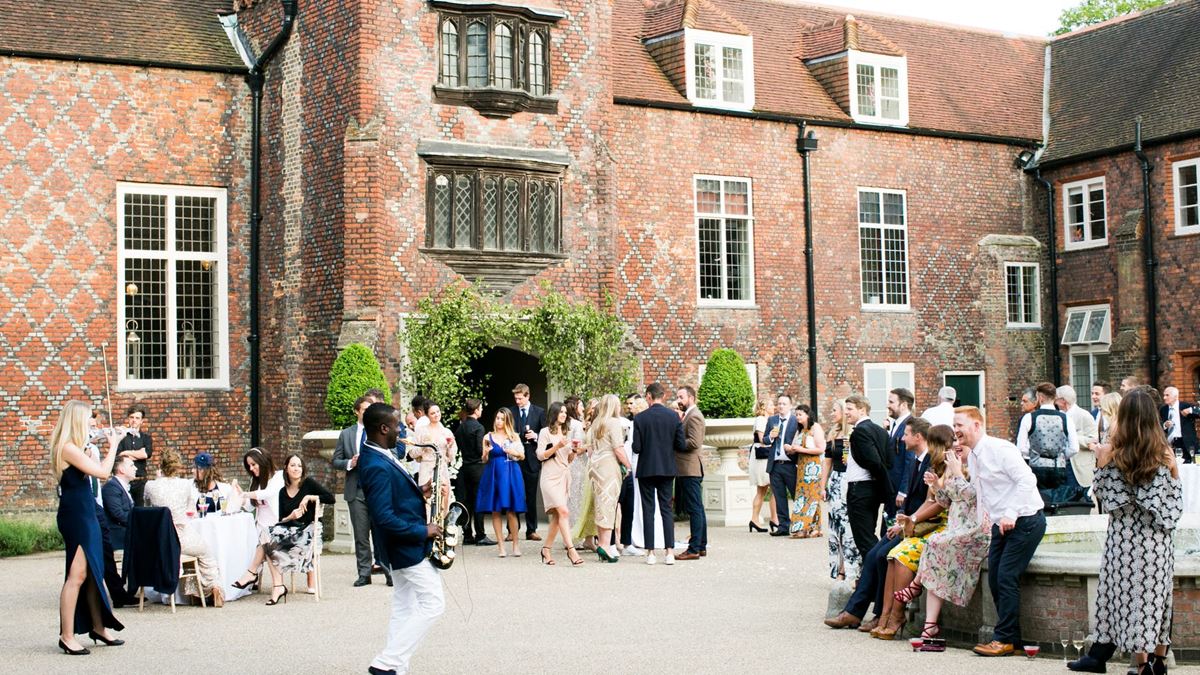 Fulham Palace is a truly unique venue that's offered a stunning space since the 13th century. With a mix of different architectural styles and a romantic garden courtyard area, this historic space is for those who want to step back in time on their wedding day. Plus, the venue is only five minutes from Putney Bridge Station — easy to access for city-based guests.

Searching for your dream wedding venue? Get in touch.